Tokyo Beauty Products –
including CEFINE

Created in Japan for the people with sensitive skin based on the concepts of action, quick effect, retention, and safety.

No fragrance, no color is added.

Our skin care series are the essence of natural power contained in the herbs and seeds collected throughout the from Europe to China.

As combined with leading-edge Nano technology and bio technology, CEFINE products were emerged.  Also, our make-up series are made of herbal base and free of synthetic colorant, using colors from Chinese medicinal plants and vegetables. Try our products. Feel how nice it is!
Imported and distributed by TOKYO BEAUTY PRODUCTS, INC.
Beauty Pro Series

Light massage with our products will exfoliate all your dead skin cells to give you beautiful skin.
☆ Herb Clear Gel (4.23oz)/ $29
Formulated with excessively added component for eliminating keratonized skin (polyglutamic acid).  It serves for moisture retention and enhances barrier function to harsh environment to give new shine, clarity, and moisture to your skin. Five key plant extracts form the defense line against skin troubles: the action of active oxygen.


☆ Natural Cleansing Oil (6.17oz)/ $46
Made of 100% natural plant oil, it penetrates promptly to perfect skin texture while completely cleansing it. No need to repeat cleansing twice.  One step cleansing will remove makeup, promote skin firmness, prevent acne, and help moisturizing skin. [Cleansing ]

☆ Soap for Sensitive Skin (3.2oz)/ $34
Free of antioxidant, animal fat, etc, this soap is made 100% allergen-free especially for those who have sensitive skin and the babies by our innovative manufacturing method. It forms fine creamy foams for thorough clarifying power fit for facial and body cleansing purposes to prevent wrinkles, dullness, acne, spots on your skin.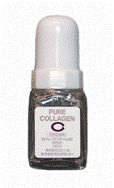 ☆ Pure Collagen (0.7oz)/ $160
The highest-grade, highly-pure natural collagen available in the world. The finest molecules penetrate smoothly and gives immediate impact onto dull and dry skin.  It contains no oil and only hydrant that does not block skin respiration.  This is good for sensitive and allergic skin type, too. You can also mix with your foundation.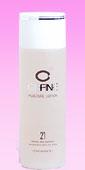 ☆ Moisture Lotion for Dry Skin (4.23oz) /$56
This skin lotion gives moisturizing effect to turn your skin into firm one and makes free of wrinkles and dullness.  Formulated with hyaluronic acid as the skin moisturizer and Chinese herbs to promote metabolism and stop aging.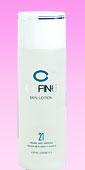 ☆ Skin Lotion for Oily Skin (4.23)/$56
This clean lotion gives skin tightening effect and is recommended for oily and acne skin types. It has anti-inflammatory and antidotal action to prevent acne and rashes and produce fine silky skin.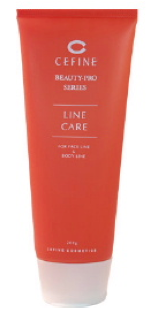 ☆ Line Care (7.05oz)/ $43
The gel shows the effects of skin tightening and face lifting because its penetration power brings water and nutrients to the layer of keratin.  Problems such as skin dullness and swelling will be resolved instantly and it will give you a revitalized, activated and slimmer look. [Slimming Gel]

Nanomic Q10 Series
Nanomic is the word created to express the exquisite and intricate technology of CEFINE by totaling Nano and microscopic molecular engineering. Nanomic allows us to formulate CoQ10, as known as the anti-aging and energy source of human body, in 27 nm (20 nm ~ 40 nm) much smaller than the size of gap between comeocytes.  The technology promotes active ingredients penetrate into your skin for revitalization and rejuvenation.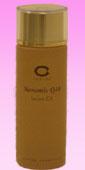 ☆ Nanomic Q10 Lotion EX (4.23oz)/ $80
Sasa veitchii extract for fortifying cells and CoQ10 for cell activation and more are formulated in this skin lotion.  It helps to whiten, repair, moisturize skin as well as lower blood viscosity.[Luxurious Skin Toner with Three Key Whitening Ingredients]


☆ Nanomic Q10 Eye Care (0.7oz)/ $138
Enriched with nanomic capsulated CoQ10 and myoxinol for eliminating wrinkles, it uses only hyaluronic acid as the base to give high water retention power. It is the ultimate tool for anti-aging care.[Gel for eye areas]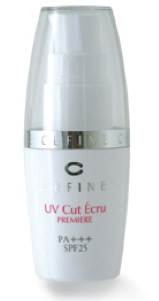 ☆ UV Cut with Q10 (1.22oz)/ $48
A Sunscreen everyone's been waiting for! Non chemical, Non Fragrance, Alcohol free, and works as a foundation primer. Contain 28 luxurious skin treating ingredient while blocking skin's harmful rays. Smoothly and flawlessly covers skin's small imperfection, pores, preparing skin for makeup. Brightens skin's appearance for younger looking skin. Is nonchemical, made for sensitive skin and can be even used on babies skin. Can be washed off with soap water. Contains grapefruit oil, which is known for its weightless properties. 1.22oz/SPF25, PA+++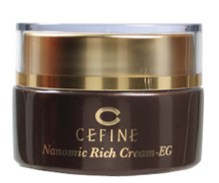 ☆ Nanomic Rich Cream-EG (1.05oz)/ $158
Nanomic Rich Cream-EG is a night cream which contains two Nobel Prize Award winning ingredients: Fullerene and EGF.

Both ingredients are highly recognized in the medical and dermatology field.

Characteristics:

As we age, the skin cell's turnover cycle becomes irregular and infrequent.

Because of this the skin shows signs of aging such as: age spots, uv damage, freckles, wrinkles, and etc.

However, EGF increases the rate of cell turnover and further encourages cell renewal giving skin a healthy younger looking appearance.

What is EGF?

Epidermal Growth Factor, is a growth factor that plays an important role in the regulation of cell growth, proliferation and differentiation.

EGF received a Nobel Prize in 1986 in behalf of therapeutic value for burn treatments.

When combined in cosmetics, it has a feature of working immediately to reduce the appearance of dark spots and discolorations.

What is Fullerene?

Acts as a powerful free radical scavenger. Turns active oxygen, the cause of aging, into a harmless matter.

Fullerene has been used as a medication for Parkinson's disease as well as Alzheimer's disease.

As the skin cell's age, blotches, wrinkles will appear and skin will begin to sag.

But with Fullerene, the activation of re-creating cell growth is 125times more than Vitamin C!

Recommended for:

dry skin, sagging skin, wrinkles, melasma, dark circles around the eyes, dullness of skin, and clogged pores

Directions:

apply to entire face at night after cleansing and toner.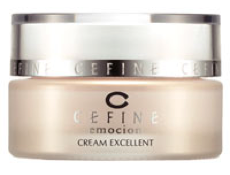 ☆ Emocion Cream Excellent (1.05oz)/ $68
Moisture-rich and protection force cream. Improves skin quality from inside. Reinforces and repairs moisture and corneous barrier function, generating softer, younger bright skin.

Instructions: After emulsion, take pearl-sized cream. Apply over face and massage into skin. Reapply additional cream to areas of concern for dryness such as around the eyes and the mouth.


☆ Emocion Lotion II (4.23oz)/ $56
For exclusive treatment of inner dry skin. The synergistic effects that strengthen corneocyte membranes and repair epidermal cells, reducing skin troubles such as wrinkles, sagging and dryness. Features moisturizing texture, revitalizing your skin firm and clear.

Instructions: Apply an appropriate amount to cotton and pat gently until skin turns cool and smooth the lotion over face.


☆ Tendecica (5.25oz)/ $40
Tendecica Carbon dioxide pack cleansing

Tendecica alone can take four roles including cleansing, pack, soft pealing and aromatherapy. It is featured by a micro foam that dissolves dead cells and rough pores. Supports regeneration of skin and generates fresh and moisturized skin. Marshmallow like foam, leaving no damage to skin.

Instructions: Keep the bottle upright and shake well. Spray egg-sized foam into palm and smooth over face. Leave the foam on for one to two minutes. Rinse off thoroughly with lukewarm water.