Galvanic Spa recently won Best Product In Show at the L.A. Spa and Resort Expo and has been featured at the MTV Music Awards, Sundance Film Festival and numerous celebrity gifting suites in Hollywood.

This technology smoothes out wrinkles, purifies, energizes and tones the skin using gentle galvanic currents and specially charged treatment gels.

The small hand-held device gently energizes the skin with safe low-level galvanic currents, proven to improve blood circulation as well as to tighten and tone the skin and muscles. Serums, designed specifically for the face, hair or body work in conjunction with the device to enhance the treatment. Use it two or three times a week for a month and you can say goodbye to those botox and collagen injections, return the Nioxin and forget about the plastic surgery you've been considering. Your face and body will look refreshed, revitalized and invigorated. It's also very effective at reducing cellulite!

Not only does it bring back your skin's natural radiance, but it makes any skin care products you use 70% more effective by increasing the skin's permeability.
source: http://www.wptv.com/mediacenter/local.aspx?videoId=7072
YES, even the stars are using this incredible product!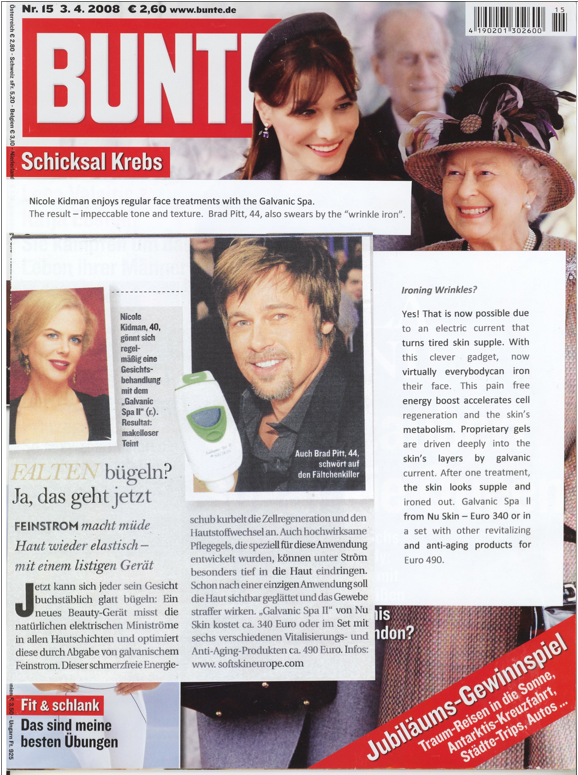 How the Galvanic Spa System II works
A Galvanic treatment for the face is a two step process that takes about ten minutes.
The two steps are the PRE-TREATMENT and the TREATMENT steps.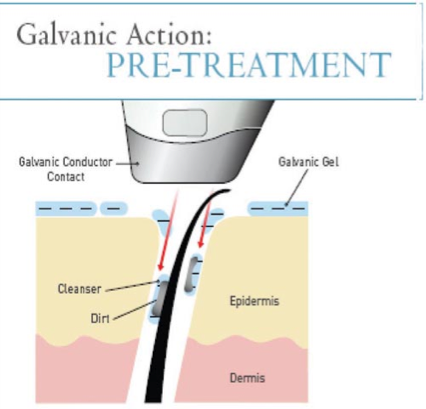 First Step- PRE-TREATMENT
In the PRE-TREATMENT, a negatively charged gel (the clear bottle) containing extracts of marigold, sea kelp, vanilla and other vital nutrients; as well as TEA Cocoyl Glutimate to purify and revitalize the skin is placed on the face and neck. The Galvanic Spa System II is also set to a negative charge and by smoothing the Galvanic Spa System II over the skin with the negatively charged gel the two negatives repel each and drive the pretreatment gel and vital nutrients deep into the skin. Once there, the pre-treatment gel delivers nutrients and binds with impurities such as toxins, makeup, smoke and pollutants that have become embedded in your skin.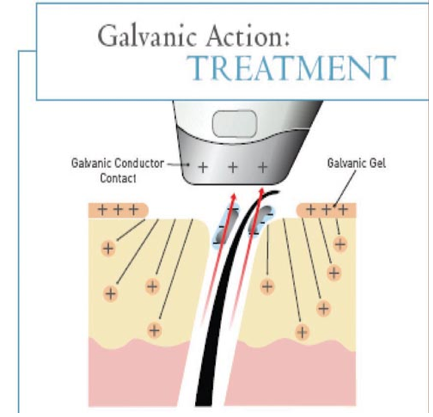 Second Step-TREATMENT
In the TREATMENT step, the positively charged treatment gel containing, among other nutrients, Arginine, an amino acid which helps the skin to recover from stress as well as Magnesium, a component that promotes cellular energy is placed on the face and neck. The polarity is then changed on the Galvanic Spa System II to a positive charge. This positive charge simultaneously pulls the negatively charged particles and impurities out of your skin while pushing the positively charged vital nutrients deep into your skin.

The Galvanic Spa System II not only deep cleans lifts and tightens your skin but it has been clinically proven to increase the skins ability to absorb up to 70% better increasing the efficiency of any skincare regime that you follow after a single 10 minute treatment. The effects of the Galvanic Spa System II become even more noticeable after 15 minutes and even the next day.

When used in conjunction with other exclusive skin care products, all of which contain humectants, a molecule that binds itself to four times its weight in water to dramatically increase the moisture in your skin. Or, for seriously dry skin new products have recently been introduced with what are being referred to as super humectants that bind themselves to a thousand times their weight in water and delivers immense amounts of moisture deep into your skin. For the latest in anti-aging technology try our newest exclusive product, True Face Essence with Ethocyn (2008) which has been clinically proven to return the skin's elasticity back to that of an 18-24 year old within four months regardless of your age.
*Precautions are for pregnant women, people that have pacemakers,
and people that have a lot of metal in their mouth like braces.
ageLOC Spa Package White

All the benefits of your Spa Beauty at home, NOW with ageLOC.

Contents:

ageLOC Edition Galvanic Spa

2 boxes Galvanic Spa Facial Gels with ageLOC

NaPCA Moisture Mist

DVD
Instruction Guide

Galvanic Brochure

Product Catalog


Price $375.00
Facial Gel with Age LOC (4 treatments) -$45
Galvanic Spa Pre-Treatment and Treatment Facial Gels
Works to restore skin's natural vibrancy by removing impurities and promoting cellular energy. When your complexion looks tired and stressed, a spa facial can provide the revitalization you need, but who has the time? Exclusive patented technology allows you to achieve spa results at home in just 10 minutes with the Galvanic Spa II Instrument, Face Conductor, and specially formulated facial gels. Galvanic Spa Pre-Treatment Facial Gel helps remove impurities so your pores can breathe while Galvanic Spa Treatment Facial Gel revives and invigorates tired skin by promoting cellular energy.
Galvanic Spa Pre-Treatment Facial Gel
• Removes impurities, allowing pores to breathe.
• Soothes and conditions the skin.
Galvanic Spa Treatment Facial Gel
• Facilitates recovery from stress; promotes cellular energy.
• Skin regenerative, spa-like results in less than 10 minutes.
• Enhances skin hydration, leaves skin feeling incredibly soft, clean, and refreshed.
Key Ingredients
• Galvanic Spa Pre-Treatment Facial Gel—marigold, sea kelp, and vanilla extracts soothe and condition the skin.

• Galvanic Spa Treatment Facial Gel—contains arginine to facilitate recovery from stress while magnesium promotes cellular energy.

Body Shaping Gel (5oz) -$42
Positioning Statement
Galvanic Spa II Body Shaping Gel is an at-home spa treatment
that concentrates cellular energy to target pockets of fat and tox-
ins for a firmer, more toned appearance.

Body Shaping Gel is an intensive spa quality treatment that mini-
mizes and smoothes the appearance of cellulite in the conven-
ience of your home. Patented self-adjusting galvanic currents
work synergistically with proven ingredients and the new
Galvanic Spa II Body Conductor to facilitate transport of key
ingredients. This exclusive treatment concentrates cellular energy
to help do the following:
• Break down fat
• Reduce fat storage
• Increase circulation to remove toxins
• Increase the firmness of skin
• Even out dimpled areas

Key Ingredients
• Theobromine (theobroma cacao extract)—contains a molecule
shown to target a certain enzyme in fat cells, targeting this
enzyme may help activate fat breakdown.
• Golden chamomile (chrysanthellum indicum extract)—testing
indicates the flavonoids found in golden chamomile may help
inhibit the storage of fat.

Usage/Application

Use morning and night* two days per week on problem areas.
Apply gel liberally and rinse hands. Affix body attachment to
Galvanic SpaII Instrument. After selecting the "one-fountain"
setting, select the appropriate time setting (3–5 minutes per
area). Use instrument to massage problem areas until the treat-
ment cycle is complete. Wipe away any excess product with a
damp cloth.
*Research shows when Galvanic SpaII Body Shaping Gel is used twice
in the same day, the benefits are cumulative.